Wall Street Memes
1 $WSM = $0.02500000
Add this Embed to your website, blog, or article

Wall Street Memes Crypto represents an innovative presale meme coin introduced by a highly experienced team. This experienced team has an impressive following of more than one million loyal followers across its social media platforms.

Read morePowered by: Ico Pro list
Wall Street Memes Crypto represents an innovative presale meme coin introduced by a highly experienced team. This experienced team has an impressive following of more than one million loyal followers across its social media platforms.
Start Date:
May 25, 2023
Token Sale Ended:
October 7, 2023
ICO Details
ICO Details
View Details such as General, Token Supply & More
Website
Whitepaper
Participation with:
ETH, USDT, BNB, Card
Token Type:
ERC-20, Ethereum
About:
What is Wall Street Meme?
Wall Street Memes Crypto represents an innovative presale meme coin introduced by a highly experienced team. This experienced team has an impressive following of more than one million loyal followers across its social media platforms.
Within this comprehensive Wall Street Memes coin price prediction analysis, we provide insightful forecasts containing both short and long-term perspectives. These forecasts consider many influential factors, including the vibrant and engaged community surrounding the token, the substantial anticipation and excitement generated, and the remarkable achievements previously accomplished by the team behind this venture.
How to Buy Wall Street Memes Presale: A Step-by-Step Guide
As Wall Street Memes is presently in its presale phase, prospective investors can exclusively obtain the $WSM token through the official wallstmemes.com website. The following steps elucidate the process:
Step One: Creating a Crypto Wallet
Firstly, it is advisable to create a crypto wallet. MetaMask is highly recommended due to its user-friendly interface on PCs and mobile devices. Although any Ethereum Virtual Machine (EVM) compatible wallet can be used, this tutorial will utilize MetaMask.
Begin by visiting the official MetaMask website. Download the wallet application and carefully follow the provided setup instructions to create your account.
Step Two: Depositing Funds into Your Wallet
To ensure your wallet has sufficient funds, add USDT or ETH. That can be done by paying directly within your crypto wallet using a card or by adding fiat to your centralized exchange account and transferring it to your wallet.
Step Three: Accessing the Presale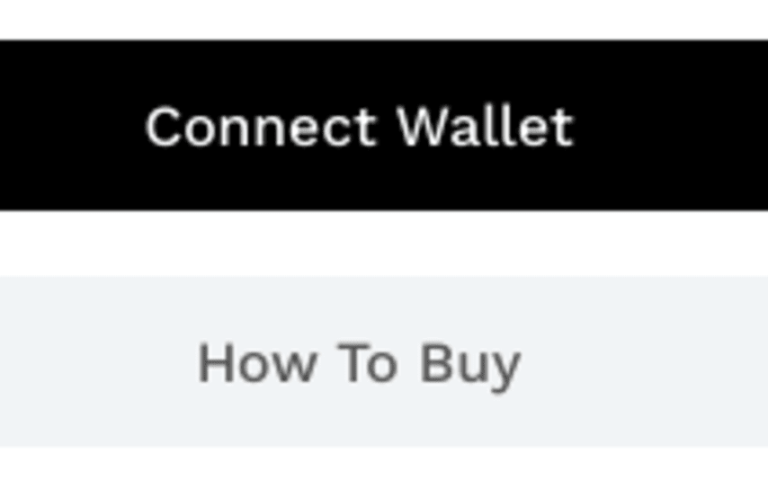 Visit the Wall Street Memes website and locate the "Connect Wallet" button. Click on it to connect your crypto wallet and the website. Upon connecting, MetaMask will prompt you to authorize the transaction. Proceed by signing the transaction as requested.
Step Four: Purchasing Tokens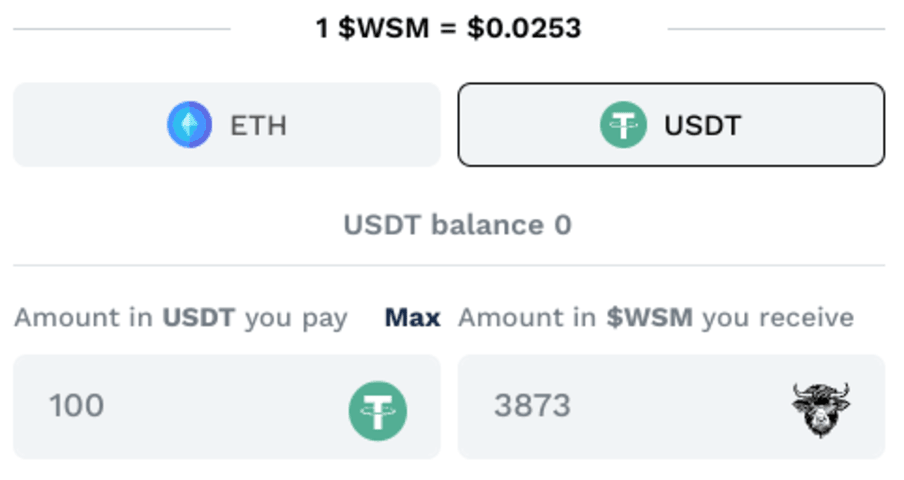 Determine the desired quantity of $WSM tokens you wish to acquire. Enter this amount and proceed with the transaction. As prompted by MetaMask, authorize the transaction to finalize the purchase.
Step Five: Claiming Your Tokens
Following the completion of the presale, a token generation event (TGE) will transpire. At this stage, revisit the wallstmemes.com website and locate the option to claim your tokens. After claiming, you can locate your tokens within your wallet by importing the token's smart contract address into MetaMask.
Following these steps, you can successfully participate in the Wall Street Memes presale, acquire your desired quantity of $WSM tokens, and claim them within your crypto wallet by importing the token's smart contract address.
Wall Street Memes Price Prediction – Overview
End of 2023: It is considering the remarkable expectations and support witnessed during its pre sale phase. During this time, over $800,000 was raised through wallstmemes.com. It is expected that the value of the WSM token will experience a significant surge after its Initial Exchange Offering (IEO). Considering this, our meticulous Wall Street Memes price prediction indicates a projected price of $0.06 by the conclusion of 2023.
End of 2025: Looking ahead to the year 2025, the project's social media channels have already seen engagement from prominent figures such as Elon Musk, a trend that might be repeated. Furthermore, the team behind Wall Street Memes is embracing the latest trends by venturing into the realm of Bitcoin Ordinals NFTs. This adaptability and ability to stay current suggests their potential for long-term success. With these factors in mind, our comprehensive Wall Street Memes price prediction estimates a price of $0.15 by the culmination of 2025.
End of 2030: Attempting to forecast long-term prices for newer meme coins can be a challenging task. However, Wall Street Memes has already established a strong brand presence, which could be a valuable asset for its long-term growth. Should the project achieve its objectives, our insightful Wall Street Memes price prediction envisions $WSM attaining a value of $0.40 over the decade, signifying a gain of just over 10 times its anticipated listing price of $0.0337.
Wall Street Memes Price History
The Wall Street Memes presale opened on May 26, 2023, and within a matter of minutes, it successfully raised an astounding $100K. The rapid and enthusiastic response during the presale's inception can be attributed to the project's pre-established online brand presence and proven track record in cryptocurrencies.
During the height of the NFT frenzy in 2021, the Wall St Bulls NFT Project captivated the market, achieving a complete sell-out within a mere 32 minutes. This remarkable accomplishment resulted in the founders amassing over $2.5 million in earnings. Following the successful NFT collection launch, the founders continued their crypto and stocks digital endeavors. They were gradually amassing an impressive following of over one million loyal supporters through creating and sharing captivating memes and engaging social media content.
The presale of Wall Street Memes experienced an exceptional performance, raising over $250K within its first day and surpassing the milestone of $500K within its initial 48 hours. This extraordinary achievement is undoubtedly praiseworthy by all standards, propelling Wall Street Memes into conversations as a contender for the prestigious title of the best ICO of 2023.
In conjunction with the presale of this meme coin, the project has introduced an enticing $50K airdrop opportunity and unveiled 420 ultra-rare NFTs known as Bitcoin Ordinals. Undoubtedly, these initiatives will only intensify the excitement surrounding Wall Street Memes, compelling potential investors who missed the initial offerings to seek opportunities to acquire the $WSM token.
Currently, $WSM is in the second stage of its presale, priced at $0.253. The presale consists of 30 stages, with the final stage expected to offer the token for $0.0337. The total supply of Wall Street Memes tokens amounts to 2 billion, with 50% of the tokens being made available during the presale phase and a presale hard cap set at an impressive $30,577,000.
Wall Street Memes Price History – Summary
The presale of Wall Street Memes has experienced an electrifying launch. Considering its expansive community and the impressive track record of its team, it becomes evident that this project stands among the most promising cryptocurrencies in the market.
Outlined below are the key highlights of its journey thus far:
The presale garnered a remarkable $500K within 48 hours, with the funding surpassing $800,000 in just over 72 hours.

Currently, the price of the WSM token stands at $0.0253, and the project is currently in the midst of its second presale round.

The Wall Street Memes presale exhibits a formidable hard cap set at $30,577,000, signifying the maximum funding target for this phase.

The presale comprises 30 rounds, each characterized by an incremental increase in token price as the project progresses.
These key points underscore the impressive momentum and engagement witnessed by Wall Street Memes thus far, solidifying its position as a highly promising venture within cryptocurrencies.
Wall Street Memes Price Prediction for 2023
One of the captivating aspects of the Wall Street Memes token lies in its unique tokenomics. The presale structure comprises 30 rounds, resulting in investors entering the market at various points, thus ensuring diversified entry positions.
This distinctive approach can foster a more sustainable price trajectory post-launch, as investors' profits will vary. In contrast, previous presales have witnessed immediate sell-offs due to a significant price disparity between the launch and presale prices.
The Wall Street Memes project demonstrates its commitment to community involvement by making 100% of $WSM tokens available to the public. Half the tokens are allocated for sale during the presale, while the remaining portion is dedicated to liquidity provision and community rewards. This token allocation strategy, akin to the varied entry points in the presale, can contribute to a more organic price movement as the project team relinquishes control over the token supply.
Considering these factors, along with the project's notable hype and established community, it is plausible that Wall Street Memes will achieve sustained growth throughout 2023.
Based on our analysis, our Wall Street Memes price prediction indicates an anticipated price of $0.06 by the conclusion of 2023. This projection translates to a 137% price increase from its current valuation, underlining the potential for substantial gains.
Wall Street Memes Price Prediction for 2025
The fact that Wall Street Memes has garnered repeated engagement from Elon Musk on Twitter adds a compelling dimension to its potential. In cryptocurrency, connections to Elon Musk have historically catalyzed significant price surges for various projects.
Moreover, the Wall Street Memes community, comprising over one million dedicated followers, has already demonstrated its robustness by investing over $800K within three days. This formidable community strength positions Wall Street Memes as one of the most influential meme coins, which can propel its price trajectory in 2025.
Crypto YouTuber Jacob Bury, in a recent video, highlighted the project's immense potential, suggesting it could experience a 10-100x growth and become the next explosive meme coin. This sentiment was echoed in subsequent videos, further bolstering Wall Street Memes' prospects.
While it is essential to acknowledge the inherent risks associated with meme coins, Wall Street Memes stand out due to its established track record. The recent launch of its meme coin token and the introduction of Bitcoin Ordinals NFTs demonstrate the team's adaptability and commitment to remaining at the forefront of crypto innovation and narratives.
Considering all these factors, our Wall Street Memes price prediction forecasts a projected price of $0.15 by the conclusion of 2025. This estimate reflects a significant 492% increase from its current presale price, indicating the potential for substantial returns.
Wall Street Memes Price Prediction for 2030
Forecasting the long-term price of presale coins, especially those characterized by volatility like meme coins, poses inherent challenges. However, Wall Street Memes stands apart due to its established community and a team that has already demonstrated its prowess within the crypto industry.
While meme coins are undoubtedly known for their volatility, the enduring success of Dogecoin has proven that meme coins can possess long-term potential. Nevertheless, for Wall Street Memes to thrive in the long run, it must continue to deliver value to its holders. That could be achieved through utility enhancements, transforming the project into a Decentralized Autonomous Organization (DAO), or organizing more engaging community events.
The team has already showcased its commitment to the community by initiating a celebratory $50K airdrop during the presale release and subsequently offering merchandise and NFTs. These endeavors exemplify their dedication to nurturing a vibrant community.
The primary factor that positions Wall Street Memes as a strong contender among long-term cryptocurrencies is its vast online following. Community engagement plays a pivotal role in the success of meme coins, and Wall Street Memes have already amassed a significant and devoted following.
Therefore, with the team's continued focus on adding value to the project, our Wall Street Memes price prediction estimates a projected price of $0.40 by the conclusion of 2030. This prediction signifies an extraordinary 1481% increase from its current price, underscoring the potential for remarkable growth and returns over the long term.
Wall Street Memes Potential Highs and Lows
Wall Street Memes: Exploring Promising Prospects and Potential Pitfalls
Investors are urged to exercise caution and acknowledge the inherent risks associated with all presales. Nonetheless, Wall Street Memes has already established itself as a noteworthy presale, potentially paving the way for its future success. Presented below is an overview of the coin's conceivable upsides and downsides.
| | | |
| --- | --- | --- |
| Year | Potential High | Potential Low |
| 2023 | $0.06 | $0.04 |
| 2025 | $0.15 | $0.09 |
| 2030 | $0.4 | $0.12 |
Several nascent meme coins have exceeded our optimistic projections, delivering remarkable returns on investment within a remarkably short period. Notably, Pepe (PEPE), RefundCoin (RFD), Sponge (SPONGE), and others have yielded returns exceeding tenfold in a mere week before experiencing a subsequent retracement.
Factors Affecting the Price of Wall Street Memes
Below are the key elements that impact the valuation of Wall Street Memes.
1. Community Influence: The community's vitality associated with meme coins directly correlates with their price performance. This underlying factor has significantly contributed to the successful outcome of the Wall Street Memes presale thus far. Keeping this in mind the continuous growth of the community is likely to fortify the price of the coin.
2. Meme Coin Bull Market: A notable phenomenon observed during the recent Pepe bull run is the tendency for liquidity to flow into new meme coins, ultimately benefiting others in the same domain. Consequently, it is plausible to expect a surge in the value of Wall Street Memes during the subsequent meme coin bull market.
3. Supply and Demand Dynamics: Wall Street Memes possesses a finite supply of 2 billion tokens. The scarcity imposed by this limited supply implies an upswing in the coin's demand could result in a substantial price surge. Conversely, if the supply surpasses the demand, the token's value may experience a decline.
Is Wall Street Memes the Best Crypto to Buy in 2023?
Considering its expansive and vibrant community, coupled with its remarkable performance in the presale phase. Wall Street Memes emerges as a potential candidate for one of the most promising cryptocurrencies in terms of upward potential.
It is essential to note, however, that meme coins are inherently volatile, and the long-term roadmap for Wall Street Memes remains ambiguous. Currently, the project lacks a defined roadmap, and the identities of its team members remain anonymous.
Nevertheless, the project demonstrates a dedicated community that strongly focuses on stock and cryptocurrency investments. Furthermore, its noteworthy accomplishment in the 2021 NFT sale is a testament to its ability to generate significant demand. Additionally, the backing of influential figure Elon Musk could play a pivotal role in bolstering the project's triumph.
Considering these factors, it becomes apparent that Wall Street Memes holds the capacity to be the preeminent cryptocurrency investment choice in 2023.
Conclusion
Thanks to its already-established and extensive audience, the Wall Street Memes cryptocurrency holds tremendous promise. It boasts an impressive following of over one million individuals across various platforms. The token allows individuals to become part of the dynamic Wall Street Memes community and embrace the captivating culture that propels it forward.
Investors are presented with a compelling opportunity to acquire the token at a discounted rate, albeit one that demands prompt action. As each presale round nears its conclusion, the price is poised to ascend, underlining the urgency for interested parties to seize this advantageous moment.
Make More Money with us (ICO Pro List) – Don't miss out on the next big thing. Stay up to date with the top ICOs so you can get in early and make a profit.
Roadmap:
PHASE 1: FOUNDATION
Smart Contract Development
Secure and audited smart contract for WSM token to ensure transparency and trust.
Community Building
Telegram, Discord, Twitter - Get ready for the hype train with a strong and engaged WSM community.
Branding and Marketing
Spread the word about Wall Street Memes with a comprehensive marketing campaign. Let's go viral!
Merchandise and Swag
Rock the WSM style with branded merchandise and swag. Show off your Wall Street Memes pride!
PHASE 2: LAUNCH
Token Launch
Wall Street Memes (WSM) token officially takes off. Get ready for liftoff!
Partnerships
Collaborate with meme creators, influencers, and content platforms. Let's join forces and spread the Wall Street Memes movement!
Token Listings
Launch $WSM token on popular DEXs with ample liquidity and accessibility. Trade with ease.
Exchange Listings
Level up our trading game with listings on established CEXs. Reach more people.
Awareness Campaigns
Take the Wall Street Memes revolution mainstream. Media, influencers, and popular platforms, we're coming for you!
PHASE 3: COMMUNITY EMPOWERMENT
Gated Community
Unlock exclusive benefits in the WSM gated community. Early updates, exclusive content, and interactive experiences await you!
Market Cap Goal
Aim high, aim for $1 billion market capitalization. Let's show the world the true power of Wall Street Memes!
Tier 1 CEX Listings
Get listed on top-tier CEXs. Boost liquidity, accessibility, and reach for all Wall Street Memes warriors!
Fundraising Goal:
$30.577.000